You may have read about "IBM Planning Analytics On-Demand". It is the newest offered IBM solution for planning, reporting and forecasting, offered at a subscription starting at less than 50 Euros a month. 
What is included in the offer and what can you realize with the solution? 
IBM Planning Analytics? 
IBM Planning Analytics is the AI infused planning, forecasting and reporting solution offered by IBM. The heart of the solution is the "TM1 server"; the powerful calculation engine which has proven to be capable of working with large data sets and  perform fast real-time calculations. This makes IBM Planning Analytics a perfect tool for forecasting and scenario-analysis. This software has been available as both a SaaS and On-premise offering for years. 
What is Planning Analytics "On-Demand"?
IBM Planning Analytics On-Demand is the easiest way to start  with a  low-cost planning and reporting solution focussed on self-service for one single user of a smaller user group. 
IBM Planning Analytics On-Demand includes:
Web-based analysis, planning, reporting and modelling capabilities 
Start with one user and one data model; easily add capacity on-demand to support more users and applications
Pre-build templates to start and play around. Also, guided tutorials and training contents is included to allow a quick start
IBM Planning Analytics On-Demand overview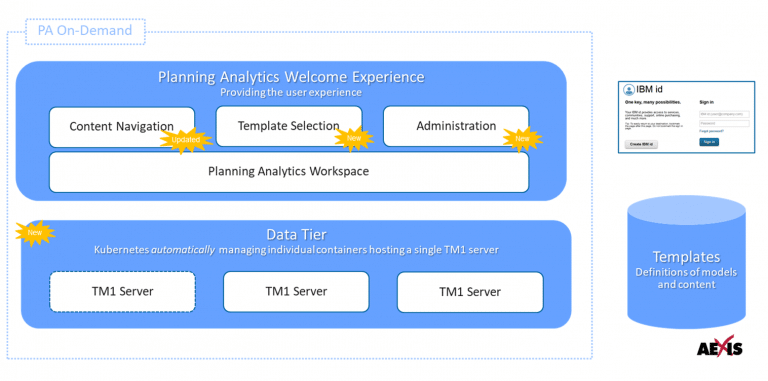 From a technical point of view this means you will get a cloud hosted multi-tenant environment with one or multiple containers, each including an individual database of 2 Gigabytes maximum. You can integrate your own data via CSV-files and you can use IBM Planning Analytics Workspace to build planning models, reports and dashboards.
You can create multiple applications by adding databases to your subscription at any time. However, you cannot exceed the 2 GB maximum database size. Very important is that databases cannot be cumulated because they exist in separated containers. Also, you cannot use the Excel Add-in but are restricted to work in the web based interface (IBM Planning Analytics Workspace of  "PAW").
When would I need to upgrade to the'full version'?
The IBM Planning Analytics On-Demand version is a great way to start for small user companies, departments or if you are just a single employee and just want to solve a spreadsheet problem.  The software comes with great functionalities, but is of course restricted. While you can invite your colleagues, larger applications and large user groups are not supported. The full version, usually referred to as "Enterprise" for instance allows you to host large planning applications with connections to various data sources.  Features that are included in the full version among others, are:
Large databases– e.g. 128 GB or even 2 TB(!)
Direct connections to source data via the REST API or ODBC enabling you to connect with multiple cloud and local data sources.
Interface to other IBM software products such as IBM Controller and IBM Cognos Analytics.
The powerful Excel Add-In to use the data in Planning Analytics directly in Ms Excel.
Advanced features to set up security and access control compliant with your organization's policy


IBM Planning Analytics Enterprise — Added value
How can you start?
New to IBM Planning Analytics? You can directly start with your IBM Planning Analytics On-Demand subscription.
If you have already started with a free trial before, you can also directly move forward from here to an On-Demand Subscription.
Want to know more?
Feel free to leave us a message via this website or just email me at cvantklaphek@aexis.com.
Also, make sure to check out our Events page and subscribe to our events and webinars. New webinars about IBM Planning Analytics and the benefits of integrating AI into your forecasting process will be published next week.
Want to start with your IBM planning Analytics On-Demand right away? Fill in our form and we will help you!