Use AI to transform your spreadsheet into a next level solution with IBM Planning Analytics
In one of our previous blogs, we referred to the new IBM Planning Analytics "On Demand" solution that enables organisations to quickly start using the leading software from IBM for reporting, planning and forecasting, by installing a free trial or paying a small subscription fee of less than 50 euros a month to get started. In case you missed it, you can read our blog here and learn all about it.
This new solution offering has been set up for small and mid-sized organisations that want to evolve from a manual budgeting and forecasting processes to an automated, artificial intelligence (AI)-powered process. IBM Planning Analytics allows you to transform your existing spreadsheets into a professional model, including cubes, dimensions, metadata, data and reports.
Curious to learn more about this? In this blog we will guide you through the first steps.
How to get started? Create your own free trial account!
If you do not have a free trial account already, you can start by creating one and request a trial environment. This by easily click here and choose the button "Start Your Free Trial" to begin.
Once you have created your account, you can login and immediately see the welcome page including tutorials on how to begin. From this page, choose the starting point "Start from a spreadsheet".
IBM Planning Analytics "On Demand" Welcome Page
Use IBM's AI power to create your own planning model
Once you have logged into your account, you have two option to get started. You can upload your own Excel file, or if you are just curious about how it works, you can use a sample spreadsheet provided by IBM.
First, the wizard guides you through 3 steps to build your own model:
Import spreadsheet
Analyse spreadsheet using Artificial Intelligence
Create the suggested model
In our case, we use a spreadsheet that includes sales figures per area and product.
IBM Planning Analytics automatically analyses the data structure and provides us the number of tables, populated cells, formulas found, etc… As you can see in the overview below.
IBM Planning Analytics using AI to analyse my spreadsheet
Then, IBM Planning Analytics shows us the suggested model for the application, including the multi-level structures:
countries roll up in areas and regions;
products are clustered in product segments;
product families and revenue are grouped per month and quarter.
Next, we can rename and expand the suggested model as we wish and move forward to the actual creation of our model. The ability of using as much dimensions as desired in our model is one of the key benefits of the powerful OLAP-engine that is included in IBM Planning Analytics. If you are not familiar with OLAP and the benefits for reporting and forecasting, we suggest you read our blog about "The Basics of OLAP data modelling".
Suggested dimensions
Once the Spreadsheet Transformation Utility has automatically created our model, we see our cube(s) that have been created and can start exploring the data by using filters or slicing and dicing.
Automatically created revenue cube and data exploration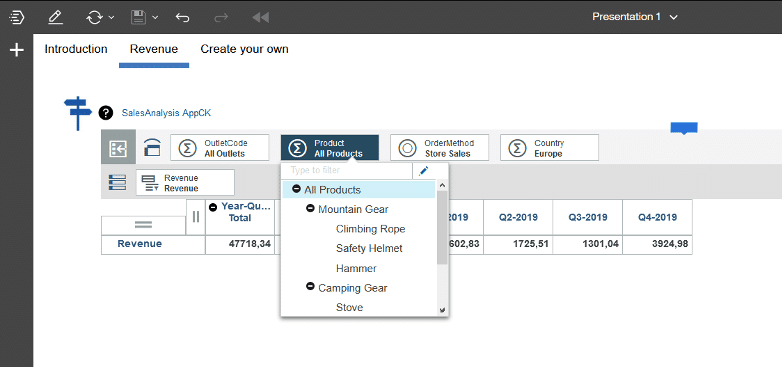 Via the guided wizard – supported by text and video – we can now easily create our own dashboard. As an example below, we see a dashboard which we have created in less than 15 minutes.
Create your own dashboard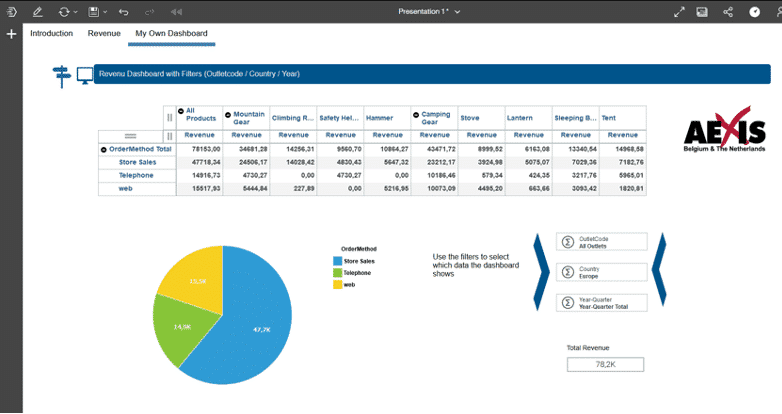 To end with a great feature, IBM Planning Analytics provides the ability to not only read data, but also write-back data into the database. When we look at the planning workflow, we can add columns to enter data into the model for example for forecasting, including business rules to calculate KPI's and grant access to colleagues to the model for collaboration purpose.
How to start with your own spreadsheets?
By walking through these steps, we are very impressed with the features offered and the user friendliness of the application. For us as a business user, it was easy to create a model in less than one hour, including an interactive dashboard to view the data.
This is truly a self-service application to easily build a planning, forecasting and reporting solution.
If you want to learn more about how to get started with your own spreadsheet?
Check out this short YouTube video (3 minutes), immediately start your own free trial or contact Aexis for more information on this topic. We are happy to help our customers benefit from the potential of this solution!